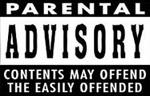 Before one of my classes began today, I asked the few students that had already wandered into the classroom how they felt about revising their most recent paper. It was due today, and most of them answered wearily that the process went okay. They have been working on the paper for over a week, so I expected them to display a smidgen of resigned disappointment, because no one's ever completely happy with their final draft. One girl surprised me by stating that she found the revision process difficult, and she elaborated further by stating emphatically that it "sucked balls."
Now, you all know that I'm no prude. Hell, I can recite the classic seven dirty words from memory (shit, piss, fuck, cunt, cocksucker, motherfucker, and tits), but I don't really classify the phase "sucked balls" as conducive to an academic environment.
And while we're on the subject, why is "suck balls" pejorative anyway? Without being too graphic""or is it already too late""I'd classify something that sucked balls as pretty cool. Hell, sucking balls is downright philanthropic.
Now, if she said that the revision process "bit balls" then I'd have understood the sentiment a bit better.