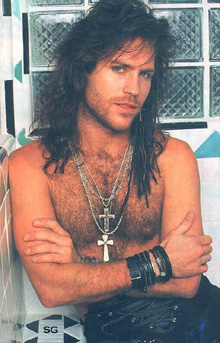 I think I'm getting old.
Leigh and I saw Def Leppard tonight, and I thought the volume was just a tad too loud. I enjoyed it and all, but it could have been a little less loud and I would have enjoyed it a bit more. Leigh and I had the privilege of sitting next to "aging rock couple." He had beautiful flowing hair much like Kip Winger, and she looked biker chic in her leather jacket and midriff shirt. They were both hair glam glorious, and only her pudgy stomach and his gray streaked hair betrayed their youthful illusion and devil may care attitude. I'm kicking myself for not getting a photo of them.
I'm starting to get concerned because middle aged folks are beginning to outnumber the youngsters at the concerts we go to. In all fairness, there were quite a large number of young people at the Def Leppard concert tonight. The Van Halen concert was a different story, though. That one was like a nursing home outing. I couldn't tell what was louder: Eddie Van Halen's wailing guitar licks, or the constricting sound of thousands of arteries hardening simultaneously.
I want 80's fashions to return. Ahhh, the days of Aqua Net and denim; when down boys wore more lipstick and eye-shadow than women, and no one laughed at you if you wore long, dangling earrings (yeah my holes are grown up but one little push would remedy that).
Alas, those days are gone.
I sold my 1980 Trans Am years ago, and Leigh would kill me if started wearing ripped blue jeans again. Plus, as the ringing in my ears so eloquently reveals, I don't think my body could take the wear and tear a rock and roll lifestyle would inflict. My heart and soul may still scream "I WANNA ROCK!" but my mind and body whisper "How about a nice nap?"