Did you know that there's a group of protestors called "Bare Witness," that try to affect certain social changes by protesting in the nude? Recently they protested nude in Germany to try and persuade the British government to discontinue using real bear fur in those goofy hats the Queen's Guard wears. They also like to protest the injustice of war, and yadda, yadda, yadda. That's them in the picture below.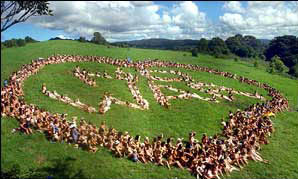 I apologize for not posting a picture with a clear view of naughty bits, but I'm sure you know how to use Google.
Are they mentally deranged? Using nudity as a weapon? Don't they know that crusty, perverted, old white dudes run the world? Most of those crusty old white dudes like nothing more than to ogle young naked people"¦hell, many of them do it on government time and on government owned computers. How would their little naked parade do anything but encourage the powers that be to continue their behavior, if for no other reason than to see some naked flesh?
Put some thought into this stuff, people.